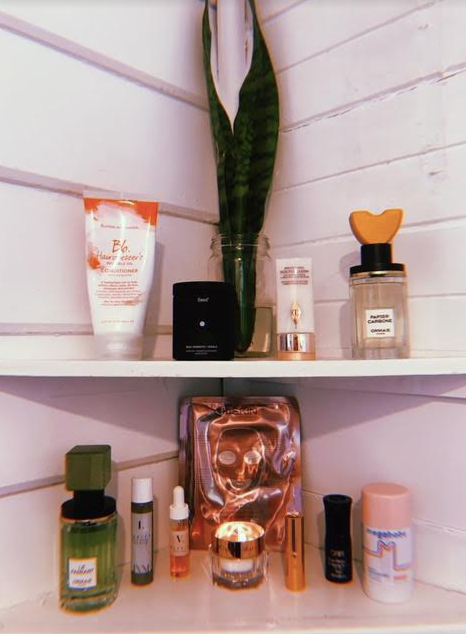 "How We Self-Cared
While the kids slept on the long flights, Gunnar and I indulged in a little skincare date.
111Skin Rose Gold
brightening masks followed by
Linne Refresh Mineral
face mist for the hours in between take-off and landing."
"She has written a sincere message for thanking the cosmetic brand called 'Linne Botanicals' because she has felt very fresh herself with their product. Here's what she wrote with it: 'Thank Linne Botanicals for starting my days of so fresh.'"
"Models appeared to have a glow that was radiating from the inside out as they walked down the runway. This was achieved using a suite of products from the REFRESH, RENEW, REPAIR, BALANCE and SMOOTH collections."
 
"I jump in the shower and wake up with Linné's Activate Exfoliating Body Wash, which feels like you're in a eucalyptus cloud."
"'Activated charcoal works because of its open, porous structure,' explains Jenna Levine, founder of LINNÉ Botanicals. Without absorbing into our bodies, activated charcoal can adsorb — or, in non-chemistry terms, stick itself to — not only bacteria but impurities of all kinds, including pollutants, toxins, venom, excess oil, chemicals, micro-particles and pharmaceuticals."
"Wash away the day: I wash my face before getting in the bath or showering. I love my cleanser from Linné"
"As early as the first grade, I loved potions and natural skincare," recalls Jenna Levine, founder of the cult natural beauty line, "When studying ancient Egypt, I had elected to recreate some of the beauty rituals practiced by Cleopatra. And while the edible face masks I crafted were designed to make my mother feel nourished and beautiful, I believe it was an attraction to the alchemy and a desire to uncover ethnobotanical histories that truly fueled this experimentation."
"The biggest point of difference between shopping for traditional skincare and shopping for clean skincare is that clean skincare takes a lot more research, thought and consideration. It's not always as simple as picking up the prettiest bottle or the one that advertises the most unbelievable claims. Admittedly, it's a lot of hard work. Our mission at The Moment is to make that process easier on you by bringing forward the clean brands we love, and most importantly, giving you the power to be your own advocate for clean beauty. Yet still, there are a lot of clean skincare terms and questions we've yet to dissect (IE. what exactly is wildcrafted), so we've asked Jenna Levine, Founder of an absolutely incredible botanics based skincare line called LINNÉ Botanicals, to lend her thoughts. Actually, Levine is even more than a founder, she's actually crazy knowledgable and passionate about plant science. Having studied botany, herbal medicine, yoga, massage therapy, Ayurvedic traditions, and Chinese medicine (just to name a few of her hobbies), we knew Levine was the right person to clear the air. Plus we get to hear her speak passionately about her favorite subject, which is obviously the best."

 "Since we are not scientists or formulators ourselves, there was no better person to talk to than our friend and Founder of LINNÉ Botanicals, Jenna Levine. Levine is a clean-beauty power house, and her exuberance for plant knowledge shines through her elegantly formulated skincare line."
"To produce effective, safe skincare, it is vital to understand both skin science and plant science. Our namesake, Carl Von Linné, was both a physician and a botanist. In his time, training in botany was part of the medical curriculum and every doctor had to prepare and prescribe drugs derived from medicinal plants. In the 1800s, medicinal plant use was fundamental to human health."

"And for her small-batch skin-care range, Linné, Jenna Levine set calligraphy brush to paper, sketching a shiso leaf and enlarging it for featherlight graphics that reveal the hand of the maker. With a no-wrap holiday season, the mantra might as well be this: Waste not, want."
"A ritual in skin care is important, but you can become a slave to it...It's not about compromising any level of performance, but saving an incredible amount of time and mindshare—not to mention wallet share,"

"Use olive oil from the kitchen as body oil, if I'm traveling without body oil, balm or lotion."

"This Linné Botanicals Smooth Balm is a body product, but I like to put it around my eyes and on my eyelids. I love that shimmer look, and it's good for potential wrinkles"
"We asked the glowiest girls in the game to tell us which beauty foods they're eating every single day. Find out which ingredients made the list multiple times..."
The New York Times- Summer Vacation Packing- JULY2017

"Skin care while traveling is tricky because you never know what you're going to need. Right now, my skin is loving consistency, so I'll be bringing my face serum from Linné as I use it every day." Hannah Bronfman, social media star and D.J.
"Jenna Levine knows a lot about food and a lot about beauty and a lot about the way the two things influence and affect each other. Certified in California Native Plant Botany and Herbal Medicine, and having spent time studying with a naturalist in the Amazon as a teenager, it makes sense that she has a line of natural beauty products called Linné that are built to nourish your skin. Today, she's sharing a few recipes that are as delicious as they are beneficial for your body."


"A lot of people for many years were using all these fancy French products, and a lot of them are full of chemicals, and it's kind of like, well what are you putting on your skin? I think that's where we are getting to now, this big shift with people wanting to go back to using things from the earth. It's sort of like, well let's have a look, can we pronounce the names on things on the back of our products? And if we can't, let's think again."

"I use a mask once or twice a week when I have time. Or, better said, I use two of them: the Scrub Face Mask by Linné Botanicals, which smells like chamomile, bergamot, and natural honey and cares for your skin while cleansing and polishing it thoroughly thanks to fine granules"

"Many people are skeptical of face oils, but I'm here to say that face oils are my jam and they could be yours too. Linné Botanicals serves up greatness with their Repair Face Oil which is the perfect blend essential oils like rose hip and Jojoba. Not to mention it smells so refreshing too"
"What do you get when you combine the ingredients of a multivitamin, the energy of a crystal garden, and the ease of a hydrosol? The answer is Linné's clever skincare hybrid, Refresh Facial Mist, which is fast becoming a favorite of fashion's elite, with style stars like Kate Foley, Michelle Violy Harper, and the Hadid sisters (Alana gifted it to Gigi and Bella this past Christmas) amongst its earliest adopters. And in a time where it's hard to decipher which products are truly beloved and which are funded celebrity advertisements, Linné cuts out the guesswork by doing zero paid influencer marketing—meaning their fans are as organically grown as the ingredients in the bottle..."

"Eco-savvy beauties will fall in love with this serum that's 95 percent certified organic or wild-harvested. Key plant-based ingredients — think hibiscus, rosehip extract, kakadu plum — are not only rich in antioxidants, but help reduce inflammation, aka random breakouts." 

"Most natural beauty brands thrive on being careful in how their products are formulated, but LINNÉ—a new skincare line based in New York—takes that mindfulness a step further. Everything from the meticulous sourcing of organic, wild-harvested ingredients and hand blending of the formulas to the systematic way the products are meant to be layered is thoughtfully considered...Needless to say, there's a lot to love about this new line. "
ELLE - BEAUTY IT LIST - JUNE 2017


"Just like food your skincare should switch seasonally. If you are noticing the produce changing at your local farmer's market it's time to also change up your skincare. Winter skincare may feel necessary for places where weather is still fluctuating, but as your body starts adjusting to different environmental components, your skin could start reacting differently. Start by adding more antioxidants to your daily topical routine such as vitamins E and C to help protect and nourish your skin from free radical scavengers. This will help your natural barrier protection from potential allergens that are being released from blooming spring flowers and grasses this time of year. We love to keep the Linne refresh face mist on hand to spray throughout the day as a boost for the face with its calming and hydrating ingredients."

"LINNÉ IS ONE TO WATCH, in part due to the incredibly careful consideration founder Jenna Levine puts into each and every batch of product, all of which she still makes, meticulously, by hand. The newest addition to her line is this serum—which by the way, is actually a serum—some natural brands have an odd tendency to call oils serums. It should be noted that it smells incredible—citrusy, and refreshing. This is one of those serums that's just all around good for skin health: it hydrates, strengthens capillaries, and fights inflammation. But it's especially good for fighting any sort of scarring or hyperpigmentation. Kadaku plum, hibiscus, white cypress, and tea tree are all antioxidants and sources of vitamin C, working to get at those issues."
Byrdie- Best Exfoliating Face Washes for Every Budget- MAY 2017

"Whether used as a daily cleaner or a weekly mask, Linné Botanicals 99% organic detoxifies and cleanses the skin for a smooth, never dry finish"
Byrdie-These Are the Most Addicting Body Balms Ever- MAY 2017

"I'm obsessed with Linné, a relatively new beauty discovery. A line of gorgeously packaged, botanical-filled products, the body balm has an addictively bouncy texture and is made with nourishing meadowfoam seed oil and smells like bergamot and Cyprus. Rub it all over your body post-shower, and revel in your baby-soft skin."
 
"This 95% organic face mist composed of aloe vera juice, zinc, and hyaluronic acid refreshes and hydrates the skin for a more supple-looking complexion. Since this spray enhances the absorption of other skincare products, we recommend using it first thing in the morning"
"If the past few days are any indication, this summer is going to be a scorcher. And when it feels like it's 95 degrees before stepping out the door, who couldn't use an on-the-go boost in the form of a refreshing face mist? This season, though, the newest wave of atomizers offers much more than just a cooling spritz."
"We predict big things for Linné, a chic new botanical-based line handcrafted in Brooklyn that we learned about from our friends at The Detox Market. Their new face serum is made with a potent cocktail of 95% organic ingredients like honeysuckle and hibiscus to brighten and smooth uneven skin texture."
CAP BEAUTY- INGREDIENT EXPLORATION EVENT- APRIL 2017
"ALL YOU NEED is plants. That's the idea behind LINNE Botanicals, a new brand of wild-harvested, plant-based skincare we're loving — both for for the pretty packaging and total transparency of what's inside. The latter comes from obsessive sourcing and simple ingredient lists made by the line's glowy crafter, Jenna Levine, whose idea of natural beauty is one we couldn't agree with more"
LIVE ON THE THINKING CAP : a culinary recipe series highlighting an array of nutritional ingredients that are as perfect in food as they are on the skin.
Start your week off with an invigorating at-home spa ritual. Exfoliate head to toe with our detoxifying and deeply nourishing ACTIVATE body wash. "A mega dose of transportive eucalyptus oil opens and decongests the respiratory system, shaking off the start of allergy season."
SKINCARE TIPS FROM GLOWING YOGIS ? "...I love Linne Purify face wash/mask—a new incredible face wash that feels like a light scrub and can also be used as a mask. It's perfect for traveling and does wonders for the skin as a mask. I also recommend headstands—they're a great way to flush the body and rejuvenate the skin..."
"A body wash formulated without water? Gasp! Surprisingly, it does exist—and it's better than we ever imagined. Mixed with aloe, coconut, and sea salt, this multitasking wash is made to be used once a week because it exfoliates as it cleanses. But because it's not overly harsh, it's nourishing enough to use every day, if you're into that, too."
" LINNÉ Botanicals REPAIR Face Oil: From one of our favorite brands created by one of our favorite girls, this oil is perfection. Chock-full of all of the best skin-loving ingredients such as Rosehip Seed, Sea Buckthorn Berry, Argan, Sacha Inchi, and Meadowfoam oils, this beautiful product soothes, protect, heals, and enlivens. Loved by the acne-prone and sensitive/dry-skin alike, this is the perfect face oil for everyone! Bonus: you can get the travel size in one of the beautiful Face Kits (along with some of their other amazing products) so you can stash in your gym bag or purse for glow on the go!"
METRO GRAPH MAGAZINE-GREEN GODDESS GOALS- MARCH 2017
"THIS IS UNLIKE ANY OTHER BODY WASH YOU'VE EVER TRIED. Don't be deterred from its black color (it's just the activated charcoal)—it's rejuvenating, exfoliating, and nourishing without using any detergents (which dry out the skin). The smell reminds me of rich licorice—it's a great pep-you-up scent that turns your shower into a more indulgent, spa-like ritual. And it leaves your skin feeling way softer than I'd expected."
"Linné's founder, Jenna believes in feeding your skin in the same way you feed your body- wholesome and naturally. This green cleanser feels like a (slightly exfoliating) smoothie for your face (seriously, read the ingredients, you could probably eat it)."
LINNE BODY BALM | loving this ultra chic and clean company. This balm keeps my body hydrated with target ingredients such as: meadowfoam, avocado oil, bergamot, geranium, and beeswax! And each product has a batch number along with an expiration date signaling how fresh and pure it is. LOVE the design, and that everything is organic or wild-harvested. Amazing all-around!
Hair, Beard, and Face Oil: Linné Repair
Rosehip, coconut, and green tea are some of the antioxidant-rich, cellular-regenerating ingredients in this hero product from the unisex small-batch, live-organic Linné range. Products are so fresh, they come with expiration dates, and they're so versatile, you can use it everywhere that needs a little repairing. $72; linnebotanicals.com.
AWAY NYC- BATH SALT WORKSHOP- NOVEMBER 2016
Custom-made bath soak workshop at AWAY Travel NYC. Guests were invited to create a bath tonic from mineralizing bath salts, detoxifying clays, rejuvenating powders and a collection of over 30 therapeutic grade essential oils. 
SHOW BAOTS- NATURE'S WAY- NOVEMBER 2016
My other mantra is "hydration, hydration, hydration." I start the day with apple cider vinegar and with a dash of local honey, and then I drink lots of water to flush my system early in the day. I drink water all day long and believe in face moisturizing twice daily too. Every evening I apply 
Linne Botanicals Face Serum Oil
 generously after washing with their 
Purify Face Wash
I've spent most of my life with dry skin and no pimples—but for the last six to 12 months, I've had a new couple of bumps every few weeks. I suspect a couple of culprits: not moisturizing enough, while simultaneously not knowing what to do about hormonal oiliness. After what feels like countless rounds of trial and error, I've landed on an oil targeted at balancing oil production. It helps treat the problem before it starts, while still hydrating at the same time. —EF
Linné Botanicals – they do the best facial oils that are 100 percent organic and natural. 
"To cull down my long list of personal obsessions, I decided to focus on my beauty and fitness must-haves. I recently drove four days in the California Mille, a 1,000-mile vintage car rally through Northern California, in a 1957 Porsche 356A Speedster with the top down the entire time. Needless to say, my face got sunburned and my lips dried out, despite the numerous Chap Stick applications. As soon as I returned home I applied Linné Botanicals Smooth Body Balm all over and within a day, the dry layers of skin were exfoliated and the smooth hydrated skin appeared; it was especially noticeable on my lips. Linné body balm was my go-to before the trip for its fresh scent, but now even more so, for its super-hydrating properties." 
INTERVIEW MAGAZINE- CHARCOAL SHOWER-AUGUST 2016
INTERVIEW MAGAZINE- SKIN FOOD PHANOMENON- AUGUST 2016
Feature on the concept of skin food, magnesium as a transdermal supplement, and our REFRESH mist which contains magnesium. Print, August 2016.
Founded by the daughter of a surgeon and a healthy cook, 
Linné Botanicals
 is the brainchild of Jenna Levine, who began creating skin-care products in her kitchen at a young age (which were tested on her mom and sister). After receiving her certification in native plant botany and herbal medicine, Levine experimented with acne treatments for her sister using 
botanicals
 and potent chemical compounds—to much success. (Um, best sister ever?) This led her to share her creation with others, hence her line of complexion-boosting bottles filled with seasonal ingredients and native plants.
VANITY FAIR SPAIN & MEXICO- WHO'S NEXT- AUGUST 2016
New line Linne Botanicals is one of the latest beauty brands to make waves on the natural beauty scene. Linne founder 
Jenna Levine
 (who has certifications in both botany and herbal medicine) created the Purify face wash, which is packed with ingredients like aloe, jojoba oil, green bentonite clay, and tea tree oil for her sister, who suffered from a variety of skin problems. The cleanser helped clear up her sister's skin, and soon all her friends were begging for a bottle. After a summer of sweat, sunscreen, and seawater, this is just the thing to get your skin back in top shape. 
($58)
"He will never look at bar soap again after using the soothing, exfoliating, and handsome smelling body wash, made with superstar ingredients like aloe vera, avocado oil, volcanic ash, and Dead Sea salt. Pair with a scrubby charcoal towel for added efficacy—plus, this one from Morihata looks great in the bathroom."
A GREEN BEAUTY- FACE OILS- MAY 2016
Print Edition, Spring/Summer 2016
In honor of Earth Day, Jane Larkworthy shouts out her favorite natural and organic beauty must haves. "The ingredients are derived form a veritable grocery list (potato, coconut, radish, lime, olive), so I call it my salad soap. I use it every night, which is good because" due to said  grocery list, " it will expire by the end of next year." 
W MAGAZINE- NEXT IN LINE- APRIL 2016
W Magazine features Jenna Levine as the 'NEXT IN LINE' for Beauty, among 41 other 'Creative Talents Transforming the Worlds of Style, Design, Art, Film and Fashion.'
IN THE GLOSS - THE TOP SHELF - APRIL 2016
Products from our beta test SASHAessentials are featured in the essential routine of two hard-working and in-demand women: International DJ Chelsea Leyland and Mission Chinese Executive Chef Angela Dimayuga.
Non au synthétique, à la chimie et même aux adjuvants comme l'alcool : les lignes de niche les plus populaires aux Etat-Unis revendiquent toutes une approche intelligente et écolo de la beauté. Pour prendre soin des peaux réactives, ces marques sélectionnent uniquement des ingrédients récoltés au champ ou au jardin. On les aime d'autant plus qu'on peut afficher avec fierté leurs packagings élégants sur nos étagères de salle de bain... ou de cuisine !
HBFIT - #WCW - NOVEMBER 2015
Founder Jenna Levine is interviewed on her brand mission, skincare philosophy and lifestyle for this edition of Woman-Crush-Wednesday.
LANVIN CHICAGO - LAUNCH EVENT - OCTOBER 2015
In preparation for a launch event, Founder Jenna Levine arranges ingredients from her skincare line among jewelry pieces from the Lanvin winter collection.